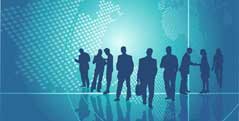 ABOUT US
For over 30 years Complete Conference Management (CCM) has consistently provided exceptional service for our clients both in the United States and internationally. We offer you personalized service accompanied by all the latest technological advantages. From start to finish, CCM is your one-stop resource for your entire meeting.

Whether you are planning a program for 25 people or 1000, Complete Conference Management (CCM) has the expertise and resources to make your program a success. We allow you to focus on making your presentation and content the best they can be, confident that everything else is being handled in a way that will make the entire program a memorable event. Course evaluations at our meetings consistently bear this out. CCM offers various levels of conference planning services, from selected to comprehensive. Contract only for the services you need.

We can also coordinate your grants and exhibits, and have a solid reputation in the area of support planning and generation. Our staff has over 50 years of professional fundraising experience. CCM is unique as we have a full-time Certified Fund Raising Executive (CFRE) on staff. CCM has earned a reputation for exceeding our client's expectations by providing superior and innovative meeting management service within a reasonable fee structure.

CCM is proud to be a MPI Member

Please review a sampling of our previous conferences. >Client/Meeting List





Our Services Include:

Meeting Strategy
We are committed to providing the best meeting experience for you and your attendees.

Meeting Site Selection
Our goal is to negotiate the best value for you, our client.

Accreditation
We are experienced in obtaining continuing medical education
credits for your educational meeting. We handle everything from the application to the evaluation component.

Speaker Liaison
We serve as contact for all necessary speaker correspondence and tracking, this includes budgeted flight arrangements, ground transportation, av forms, honoraria, accommodation, syllabus materials and faculty forms required for accreditation.

Financial Support
CCM is proud of our track record in generating financial support for meetings. We offer proven strategies and will carry out fundraising plans for your meeting. We take pride in the relationships that we have developed with a diverse list of funding sources.

Financial Management
Budget planning and comprehensive budget reports. Dedicated secure banking and merchant card services are available.

Registration
CCM will develop a system and coordinate all logistics pertaining to registration.

On-site Logistics
Food and beverage planning and management, audio-visual, on-site registration staff and speaker ready room arrangements.

Scientific Abstracts
CCM manages abstract submissions.

Event Functions
Receptions, faculty dinners and off-site social events.

Advertising, Print, Mail and Electronic Marketing
Graphic design, save the date announcements, email broadcasting, brochures, posters, event logo and stationery development, website design and hosting.

Audio Visual
Convention AV Services, Inc. is pleased to have served Complete Conference Management and to be a part of their team for over 25 years. CAVS has provided the audio-visual equipment and service for CCM conferences since 1984. "Complete Conference Management is a team of dedicated professionals who go the extra mile to make sure conferences run smoothly."