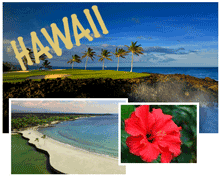 SYMPOSIUM INFORMATION

>General Information
>Faculty
>Program/Schedule
>Accreditation - CME
>Registration
>Hotel Information


Officially Endorsed by:

UCSD Sulpizio Cardiovascular Center





The Heart Failure Society of America





American College of Cardiology
California Chapter
Hawaii Chapter



The 5th Annual
International Hawaii Symposium on
Diagnostic and Therapeutic Modalities in Heart Failure
A Comprehensive and Practical Review of Advances in
Heart Failure and Biomarkers


December 3-5, 2015

Mauna Lani Bay Hotel and Bungalows
Kohala Coast, Island of Hawaii

Barry H. Greenberg, MD
Alan Maisel, MD
Program Directors


GENERAL INFORMATION

The 5th Annual International Hawaii Symposium on Diagnostic and Therapeutic Modalities in Heart Failure will be held from December 3-5, 2015 at the delightful Mauna Lani Hotel on the beautiful Island of Hawaii. This year's Symposium will detail exciting advances in heart failure, biomarkers, interventional therapy, and arrhythmias. The agenda for 2015 incorporates lectures, panel discussions and case presentations presented in an environment that is ideally suited for both learning and relaxation. Attendees will have the opportunity to hear leaders in heart failure and biomarkers discuss the newest important advances in their fields as well as provide practical guidance for optimizing patient care.

An outstanding faculty will be present to provide stimulating lectures, please watch for announcements soon.


SYMPOSIUM OBJECTIVES
At the end of the meeting the participant will be better able to:

1. Implement effective therapy for treating patients with heart failure including the use of pharmacologic agents and devices.
2. Identify patients who would be candidates for new anticoagulants for treating atrial fibrillation and other CV diseases.
3. Evaluate and manage patients with acute heart failure.
4. Assess and follow patients with heart failure using devices for remote monitoring and with biomarkers.
5. Implement strategies for reducing re-admission after a heart failure hospitalization.
6. Identify and modify risk in patients with atrial fibrillation.
7. Evaluate and manage patients with pulmonary hypertension.
8. Define indications for valve replacement surgery and to determine which patients are candidates for catheter based techniques for aortic valve replacement.
9. Identify patients who are candidates for ICDs (both external and internal) and BiV pacemakers.

> Accreditation Information

INDUSTRY SESSIONS
On Thursday and Friday morning there will be Industry Breakfast Sessions presented. Information on these will be posted soon. RSVP required, aelection made during online registration (opening soon).





LOCATION and ACCOMMODATIONS
The Mauna Lani Bay Hotel & Bungalows
68-1400 Mauna Lani Drive
Kohala Coast, Island of Hawai'i 96743
Phone 808-885-6622
Fax 808-881-7000

The Mauna Lani Bay Hotel and Bungalows is not just a hotel, but a secluded oceanfront playground set on three miles of pristine coastline. The name Mauna Lani means mountain reaching heaven, a name given by the Hawaiian elders. Embrace the spirit of aloha and share the love for Hawai'i - the weather, beaches, tropical energy, unique island culture and importantly, the people. The feeling of being in Hawai'i will overcome you as you enter Mauna Lani's breezy atrium: cascading waterfalls, lush foliage, the sound of tropical songbirds, and ponds filled with colorful koi fish and baby green sea turtles. The Mauna Lani invites you to experience paradise. Each guest room has a private lanai one of the best places on island for whale watching.

> Mauna Lani Bay Hotel Reservations and Information

Reservations
Deadline: November 18, 2015. If your reservation is not received prior to cut-off date, reservations will only be accepted subject to availability.


SYMPOSIUM CANCELLATIONS
Because of advance planning requirements, a full refund less a $75.00 processing fee will be given if you cancel. Please cancel in writing and postmark by November 4, 2015. No refunds will be given after November 4, 2015.

HEART FAILURE SOCIETY OF AMERICA
Officially endorsed by the Heart Failure Society of America. The opinions presented in this educational activity do not necessarily reflect the opinions or recommendations of the HFSA.

FURTHER INFORMATION
Complete Conference Management
3320 Third Avenue, Suite C
San Diego, CA  92103

Phone 619-299-6673
Fax 619-299-6675

info@ccmmeetings.com