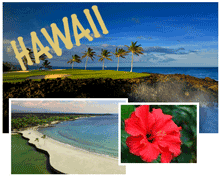 SYMPOSIUM INFORMATION

>General Information
>Faculty
>Program/Schedule
>Accreditation
>Registration
>Hotel Reservations


Officially Endorsed by:

The Heart Failure Society of America





American College of Cardiology
California Chapter



The 3rd Annual
International Hawaii Symposium on
Diagnostic and Therapeutic Modalities in Heart Failure
A Comprehensive and Practical Review of Advances in
Heart Failure and Biomarkers



December 5-7, 2013

Mauna Lani Bay Hotel and Bungalows
Kohala Coast, Island of Hawaii

Barry H. Greenberg, MD
Alan Maisel, MD
Program Directors


GENERAL INFORMATION

The 3rd Annual International Hawaii Symposium on Diagnostic and Therapeutic Modalities in Heart Failure will be held December 5-7 at the Mauna Lani Bay Hotel on the beautiful Island of Hawaii. The Symposium will offer a comprehensive and practical review of advances in heart failure and biomarkers. The agenda is built upon the highly successful Symposium in 2012 which integrated lectures, panel discussions and case presentations in an environment that was ideally suited for both learning and relaxation. Attendees will have the opportunity to hear leaders in heart failure and biomarkers discuss the newest important advances in their fields as well as provide practical guidance for optimizing patient care. There will be ample opportunity including a function for attendees, their families and the faculty to meet and talk with the faculty in an informal setting over the 3 days of the Symposium.   

This year we will present an update on management of HF across its entire clinical spectrum from Stage A-D including focused lectures on hypertrophic cardiomyopathy, pregnancy and decompensated heart failure. Advances in the use of biomarkers will be presented as well as discussions of novel biomarkers and new uses of existing ones. There will also be updates on use of devices to detect decompensation, management of hyponatremia, treatment of angina in the heart failure patient, optimal use of CRT and the role of mechanical circulatory support for advanced heart failure patients.   

The outstanding faculty includes experts in the field including Drs. Uri Elkayam, Gregg Fonarow and Ulrika Birgersdotter-Green. We hope that you will be able to join us for what will most certainly be a memorable meeting.

ONLINE REGISTRATION OPENS SOON!





LOCATION and ACCOMMODATIONS
The Mauna Lani Bay Hotel & Bungalows
68-1400 Mauna Lani Drive
Kohala Coast, Island of Hawai'i 96743
Phone 808-885-6622
Fax 808-881-7000
>www.maunalani.com

The Mauna Lani Bay Hotel and Bungalows is not just a hotel, but a secluded oceanfront playground set on three miles of pristine coastline. The name Mauna Lani means mountain reaching heaven, a name given by the Hawaiian elders. Embrace the spirit of aloha and share the love for Hawai'i - the weather, beaches, tropical energy, unique island culture and importantly, the people. The feeling of being in Hawai'i will overcome you as you enter Mauna Lani's breezy atrium: cascading waterfalls, lush foliage, the sound of tropical songbirds, and ponds filled with colorful koi fish and baby green sea turtles. The Mauna Lani invites you to experience paradise. Each guest room has a private lanai one of the best places on island for whale watching.

>Mauna Lani Bay Hotel Reservations

Reservations
Deadline: November 3, 2013. If your reservation is not received prior to cut-off date, reservations will only be accepted subject to availability.

SPECIAL ACCOMMODATION RATE FOR THE SYMPOSIUM VALID ONLY
UNTIL November 3, 2013:
$189 Garden View
$225 Ocean View
$300 Ocean Front

These Rates are subject to availability and to the prevailing Hawaii State General Excise and Room Occupancy Taxes, currently at a combined rate of 13.4166% (subject to change)

A deposit equal to two (2) night's room revenue and applicable taxes will be required to guarantee reservations at the time of booking.

Hotel reservations can be booked via the special conference link (below), mailed, faxed or phoned into the reservations department at 1-800-367-2323. Please specify that you plan to attend the 3rd Annual International Hawaii Symposium on Diagnostic and Therapeutic Modalities in Heart Failure so you can receive our special symposium rate.

>Mauna Lani Bay Hotel Reservations

SPECIAL AIRFARES
Discounted airfares and corresponding codes will be available soon with American Airlines www.AA.com. Seats are limited and certain restrictions may apply. Passengers are responsible for all applicable baggage fees at time of travel. Please check American Airlines for details.

CAR RENTAL
Hertz is the official car rental company for the symposium. Special discounted rates, starting at $32 a day, are available from all Kona locations for rental during November 26 ­ December 15, 2013. To reserve your special rate, please use TBA and identify the symposium. You can make reservations through your travel agent, online at www.Hertz.com or by calling Hertz at 1-800-654-2240. Advance reservations are recommended and are subject to availability and blackout dates may apply. Government surcharges, taxes, tax reimbursement, airport related fees, vehicle licensing fees and optional items such as refueling or additional driver fees, are extra. Rates/More Info

CANCELLATIONS
Because of advance planning requirements, a full refund less a $75.00 processing fee will be given if you cancel. Please cancel in writing and postmark by October 31, 2013. No refunds will be given after October 31, 2013.

FURTHER INFORMATION
Complete Conference Management
3320 Third Avenue, Suite C
San Diego, CA  92103

Phone 619-299-6673
Fax 619-299-6675

info@ccmmeetings.com